Corporate
Communications

Strategic Global Television Programming
FedEx Corporate Executive Offices
Search Firm Filcro Media Staffing
Officer in Charge Tony Filson - OIC List
Search Group Corporate Communications
Reporting to Director Global Communications
Based Memphis, TN - USA
AOR US | ASIA | LATAM | EU | MENA
Search Global Corporate Communications Digital, Mobile & TV Platforms
Client
FedEx Corp. (FDX) provides customers worldwide with a broad portfolio of transportation, e-commerce and business services. With annual revenues of over $65 billion, the company offers integrated business applications through operating companies competing collectively and managed collaboratively, under the respected FedEx brands. The FedEx worldwide network service links 220 countries.
Consistently ranked among the world's most admired and trusted employers, FedEx inspires its more than 400,000 employees and contractors to remain "absolutely, positively" focused on safety, the highest ethical and professional standards and the needs of their customers and communities.
The Executive Search
To identify, recruit, qualify, attract and relocate a Strategic Global Television Programming executive for global corporate communications to produce compelling stories across multiple media platforms about the FedEx organization and FedEx employees who make the company one of the best to work for in the world.

A creative media executive capable of finding common ground to build relationships with employees, cultures, clients and shareholders of this Fortune 100 Company.

Needed would be an executive capable of working in one the most respected corporate communications environments in the world serving broad internal and external constituencies globally.
Client Situation

The Director of Global Communications had built a world class corporate communications organization and was now looking to hire a talented producer of content that could serve multiple corporate clients from human resources, investor relations, marketing, public relations and others with varied messages to covey globally in multiple languages.

Autonomy was key on a business, technical and creative level to work internally with cross-functional teams for messaging across multiple media platforms.
Industry and Sector Inclusion for Search Universe Compilation
Broadcast Television Network News
Cable Television Network News
Corporate Communications and Consulting
Public Broadcasting Documentary Production
Long Form Production
Press Agencies
NGO's
Independent Production Companies
Advertising Agencies
Technology & Media Management Consulting
Subsequent to Filcro Media Staffing Being Retained
Filcro Media Staffing with Tony Filson (TF) as Officer in Charge of Search participated in a number of meetings in New York City with the Director of Global Corporate Communications (DGC) who gave clear insights into the current and future plans for this critical environment within FedEx.

The DGC being a noted executive producer was looking for a distinctive feel and look to the current body of work of each candidate. The DGC and TF viewed reels together of pieces currently in production that would be used as benchmarks as Filcro Media Staffing reviewed each producer's work. There were well honed messaging capabilities the DGC was seeking in this corporate communications producer. It was more akin to PROMAX vs. ADDY or Clio, with little time to convey messages or evoke emotion in traditional advertising, OAP or scripted series. This corporate communications executive would have tell stories meaningful stories for short and long form productions with equal aplomb.

Over 80 extremely talented programming and production professionals were profiled from all over the world by Filcro Media Staffing. This specialized corporate communications executive search candidate universe consisted of talented executives from every industry and sector listed for review by the OIC. After extensive interviews in New York City and Memphis and compiling three tiers of qualified candidates the top two candidates were placed side-by-side, it was difficult to choose just one, because both were a perfect fit from a creative, business and cultural perspective. Telling the FedEx story to the world, was a high benchmark.

The candidates sourced with related Asia, EU, Middle East, South America, Africa and United States experience were all relevant to FedEx from a business and cultural perspective with hands on multi-language capabilities. Each candidate's writing, production elements and strategic justification statements were appropriate and it became more about nuance as the final candidates were exceptional by any global standard at a motion picture studio, TV Network, advertising agency or public relations firm.
Challenges Facing the New Corporate Communications Executive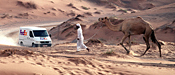 Serving a Large and Varied Global Internal Client Base
Disseminating to Varied Audiences in Multiple Languages
Conveying Information and Creative Content to a Global Community of Diverse Cultures and Sensitivities
Adapting Programming to Diverse Media Platforms and Partners
Setting Global Production, Writing and Post Production Standards
Making Media Resources Apparent and Available to The Organization and Senior Management to Meet Diverse Messaging and Business Goals
Hiring and Managing Staff to Facilitate Rapidly Changing Needs for Related Business, Technology and Creative Assets for Corporate Communications
The Filcro Media Staffing Solution
Filcro Media Staffing proceeded to Identify global organizations with specific "production" and "programming" environments that produced quality content similar to the client's needs by cross referencing internal O&D charting based on twenty-eight (28) parameters set by Tony Filson at the onset.

Recruiting from the identified universe in the United States proved to be more productive than any other market. Based on the necessity of identifying an executive who could garner internal consensus and partner with those outside of media environments who had sophisticated media needs, we needed a person who could convey ideas in "English" and not in "Media" at times. The new executive's capacity to assimilate into the corporate culture of FedEx was always paramount as we recruited in noted corporate communications, public relations, advertising agency and TV Network production environments.

As a Fortune 100 with a very distinct corporate culture there were also sub-cultures in business, technical and creative environment this executive would have adapt to that thrived with creativity and offered exceptional talent in cross-functional teams. This was a substantial undertaking where the recruitment experience of Filcro Media Staffing made a significant contribution to the positive outcome of the search.

None of the final candidates were actively seeking employment. All were happily engaged and successful in their current roles. This search required intimate media industry related recruitment experience by Filcro Media Staffing through identification, screening, recruitment, attraction, relocation and acclimation.
The Successful Media Executive Recruited

The new executive recruited by Filcro Media Staffing was a prolific EMMY recipient and multiple EMMY nominee. Her work product directly related to the global interests of FedEx with TV and long form experience that creatively told compelling stories regardless of geographic or culture.

As the recipient of the Nancy Reynolds Award while at ABC she proved to be an exceptional talent who was recognized by her peers in the United States and the broadcasting community she served internationally, for her exceptionally high production standards in multiple formats.

As an Executive Producer she had extensive international, domestic, creative and business experience with: ABC, Hallmark, The History Channel, Discovery Communications, FOX and many others where her work was respected and recognized for excellence.

Her leadership skills with large numbers of direct reports and leading cross-functional teams to meet creative objectives were well noted. She optimized human and hard assets with strong budgeting skills and financial reporting.

Her experience in the United States, Asia, MENA and Europe enabled her to relate to a diverse global community of employees, customers and cultures that make up the fabric of FedEx as a responsible global employer and corporation.

Her equal aplomb in a boardroom, production meeting or edit session made her a perfect fit for the demanding "hands-on" corporate culture she would be functioning within serving a diverse constituency with very high standards. She would prove to be as a valuable member of the executive cross-functional teams that service FedEx globally.
Executive Search Summary
The corporate communications executive was successfully attracted and relocated to Memphis from New York City. She has proven to be a vital resource in the conveyance of ideas, concepts, feelings and important messages to shareholders, the public, and over 400,000 dedicated employees from varied cultures who work for this leading global corporation.
The hiring executive and the corporate communications executive recruited by Filcro Media Staffing were both promoted. This was a highly successful search with the executive being promoted to Vice President of Strategic Communications at FedEx and the other to Trade and Regulatory Affairs in Washington, DC.
From a succession planning perspective FedEx reaped great rewards by engaging Filcro Media Staffing.

For a more senior level corporate communications search review, please proceed to Vice President Global Marketing & Corporate Communications
Filcro Media Staffing


Global Corporate Communications Executive Search, since 1985
Media Recruitment for Global Media Interests